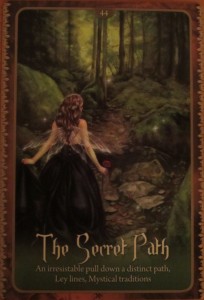 Today's Oracle card is The Secret Path: an irresistable pull down a distinct path, ley lines, mystical traditions.
You are feeling compelled to head off in a certain direction. You are pulled by a desire to discover more and explore unknown areas. Follow your bliss and curiosity and find out where it will lead!
This card has everything to do with exploring your self – such as your subconscious mind through methods like hypnosis, meditation and dreamwork.
So make time today for some fun and thrilling self exploration. Listen to a guided meditation or contemplate that bizarre dream you had last night – whatever you choose to do, know that you are walking down the "secret path", unearthing mysteries about yourself you never knew!