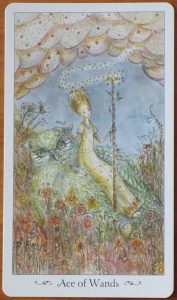 Today's Tarot card is the Ace of Wands from the Paulina Tarot and the message is all about paring passion with wisdom. Passion is represented by the Suit of Wands and wisdom is indicated by the giant owl, an ancient symbol of wisdom.
Wisdom on its own is wonderful…but a little boring. Passion on its own is exciting, but can die down without the mature, guiding force of wisdom. When you combine the two, you strengthen your ability to enhance the world around you in a real, meaningful way.
Today, ask yourself where you could use a little more wisdom and what areas need a bit more passion. If you are working on a project or have recently had a new idea, see how you can combine your passion with your wisdom….and then watch the magic unfold!
I want to send a huge THANK YOU to all who have participated in my survey. Your feedback is incredibly valuable and I truly appreciate you taking the time to give it to me! If you haven't done my survey yet, its still open – click here to let me know your thoughts 🙂