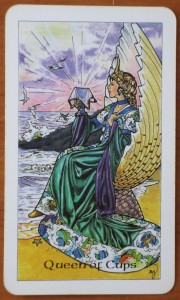 Today's Tarot card, the Queen of Cups, is here to let you know that connecting with your emotions in a mature way will bring wonderful results today.
The Queen of Cups is intuitive, in touch with her feelings and knows how to use her gifts to help herself and others. Her feelings are deep, yet they do not threaten to overwhelm her – she is the perfect blend of maturity and sensitivity.
As you tap into your inner Queen of Cups, you will find that you know exactly what to say and do – particularly if it is coming from your heart. Today is the perfect day for resolving any relationship issues – both at work and at home.