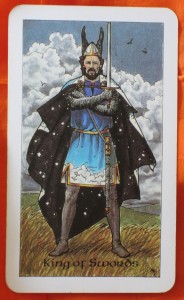 The King of Swords blasts into our day in the form of an overly rational friend or negative naysayer. Take these people with a grain of salt and stay true to your own beliefs about what is true for you.
You probably have a close friend or family member who says things like "be realistic" or "don't get your hopes up" or "its nice to dream!" If you get frustrated by this, take a breath and remember that this is only them expressing their own view about how the world works.
An interesting thing to remember is that there is no right way to think – we simply create our own experiences based on our beliefs and mindset. You have the power to shape your life experience based on your own worldview. To each his own!