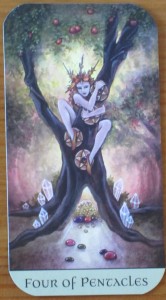 Today's Tarot card, the Four of Pentacles, suggests you are grasping your money tightly. Its tax time, so this makes sense! You may be feeling the pinch…but this card suggests lightening up a little 🙂
The pixie in this Four of Pentacles card is above a pile of golden coins suggesting she is much richer than she feels. This is an important thing to remember: poverty (and abundance) is a state of mind.
If you are feeling broke or anxious about money, try to shift your energy from poverty to abundance. You can do this by trying something out of the ordinary…..
If you normally spend sensibly, buy yourself something luxurious and extravagant (like fancy soap or that overpriced coconut milk ice cream at the health food store). If you are a little out of control with spending money, see if you can start saving a little change each and every day.
This will help you feel more abundant, which will in turn help you attract more abundance into your life.