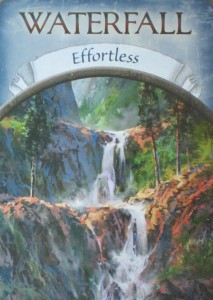 Today's Oracle card is Waterfall ~ Effortless and it is here to remind us that life is not supposed to be difficult. If you find yourself struggling and striving, remember that there is a different way….
Take the path of least resistance, let life flow, and you will be surprised at how much you "get done". If there is something you want to accomplish today, ask yourself "what is the easiest, most relaxing way I can do this?"
Another message I get with this card is that there is a trickle down effect that is always happening. The little things we do today can have a big impact later on. So take baby steps toward your goals and know that in doing so, you are actually taking great strides toward your dreams!