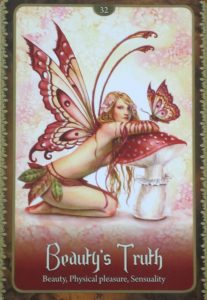 Today's Oracle card, Beauty's Truth is all about the importance of sensuality in your daily life. Pay attention to your five senses today – really taste your food, smell the air, listen to beautiful music and delight in being totally present!
Be a total hedonist today – buy yourself fresh flowers, read a trashy novel in the bath (instead of vacuuming) and eat something sinfully delicious for dinner.
Pleasure seekers get a bad rap, but enjoyment of life and feeling good is the best way to truly transform this planet.
Be playful today, like the pink fairy on this card – and delight in your innate sensuality. Your not being selfish, you are helping bring more joy and cheer to the world, starting with yourself!
In the comments below, tell me ONE joyful/sensual thing you are going to do today….