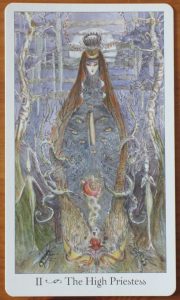 The High Priestess of the Paulina Tarot comes to you today in all her mysterious femininity, reminding you of your own power and mystique.
Her body is made up of eyes, suggesting you look inward at what is inside you. Don't be overly concerned with what's going on outside of you today. Since the outer is a reflection of the inner state, go within.
That is the secret that this Mona-Lisa-esque High Priestess is here to tell you. Don't overlook what's happening within you. If you are at war with yourself, you will create battles in your daily life. If you feel emotionally blocked, your life will also feel "stuck" in many ways.
You are full of mysteries just waiting to be explored and practices like meditation, journalling, creative writing and yoga all help you do this. So carve out some "me-time" this week and rock out 😉