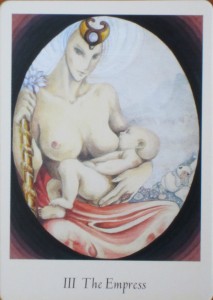 The Empress encourages you to engage your nurturing qualities today – particularly when it comes to nurturing your creative ideas and dreams.
If you have been feeling uninspired lately, ask yourself how can I nurture and care for my creative self?  When you totally ignore your creative, imaginative side, it will shrivel into oblivion.
In the book The Artist's Way, Julia Cameron talks about scheduling an artist's date each week, where you do something to inspire creativity, like visit a museum or go see an artsy fartsy film. Personally, swinging on the swings at the playground down the street works for me!
But if you treat your creativity as a regular part of your life and not just something you can engage with when everything else is done, you will never find yourself creatively blocked again 🙂