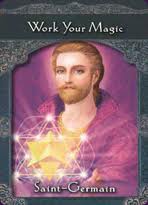 Today's oracle card message is Work Your Magic! and it comes from Saint-Germain. Focused intentions, a clear mind and connecting your heart with everything you do will serve you well today (and any day for that matter).
But I always snicker a bit when I pull this card. This rendition of Saint Germain reminds me of this guy I used to go to college with who would always pride himself on passing all his classes by putting in the least amount of effort possible. And he got high a lot.
I used to regard him disdainfully, but now I see that he was actually achieving all his goals – better yet, he was doing it his way. So I feel this card is telling us that having goals and a vision is great, but when you set out to achieve things in your own unique way, that is when the magic happens!