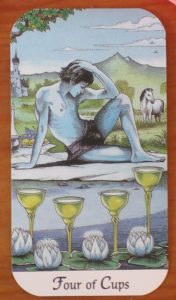 Sometimes luxury and comfort creates boredom. The dude in this card seems to have it all – a flask of wine, fresh fruit, leisure time and a low body fat percentage – and yet he is still unsatisfied!
Are you too comfortable with your life? Do things feel a bit too easy and predictable? Do you crave risk, excitement and the chance to break out of your comfort zone?
What you may not realize is that opportunity surrounds you. The blue guy moping on the river's edge could jump on that horse and explore the mountains in the distance, yet he sits there lamenting like a bored teenager on Summer break.
What amazing adventures are you closing your eyes to? Today, look closely at your life and ask how you could make it more interesting? (Unless of course, its already too interesting for you to handle!)
In the comments below, tell me what adventures you secretly want to go on, or one thing you can do today to make your life more "jazzed up"?