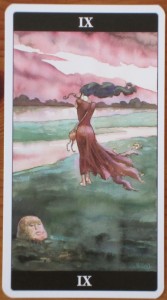 The Hermit has appeared today because you feel a certain sense of aloneness in your life. Not necessarily lonely – but this feeling that you are having to walk this path alone and figure things out by yourself.
At times this exhilarates you and other times it saddens and frustrates you. But know that others have also walked this path before you (note the odd stone faces in the ground!) and while you cannot see them, their spirit is with you.
And know that others will walk your path after you and in this sense you are a trailblazer and a wayshower for the future. Which is really exciting!
But the main message is that any sense of loneliness is an illusion – so don't let it hold you back. Instead, keep moving forward even if you aren't really sure where you are going. You only need to know the next two steps – not the next 2,000.