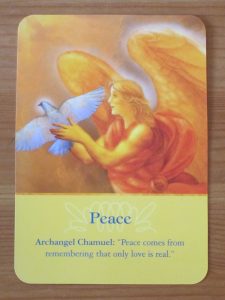 This weeks Angel card is Peace and the message is "Peace comes from remembering that only love is real."
This week is all about finding peace within yourself, even if your surroundings are not very peaceful or loving. This is the only way that real change can be created.
Start seeing stress, conflicts and mishaps in your life as opportunities to find peace within. You may find yourself feeling very resistant to something or someone this week – see if you can drop that resistance.
Anytime you catch yourself thinking that things should be different than they are, then you know you are not in the process of creating peace. Let go of the desire to change everything and improve things – instead, just focus on improving how you feel about things, one step at a time.
You are at a time in your life where creating peace within yourself is totally do-able – your level of awareness is awakening more and more each day. So this week, as you go about your daily activities, check in with yourself every now and then and ask "Am I creating peace?"
Just asking this simple question will quickly move you into a state of peace and joy!
Note: On November 4th I will return with my daily readings. Thank you for your patience 🙂