The holiday season is upon us and what better way to celebrate than doing a Christmasy themed Tarot reading! You'll find the printable version of this spread below, as well as a detailed breakdown of each card position.
Have fun and Merry Christmas!!!!
1. How can you be of service to others?
If you don't think of yourself as the Mother Theresa type, think how can I best share my gifts/skills/talents with the world?
2. What gift will you give yourself?
Sometimes the best part of Christmas is buying presents for yourself. Yeah, that's right! But it doesn't have to be a consumer driven spend fest – you could give yourself the gift of solitude or the gift of smokin' a blunt in the bath, while you blast something deliciously terrible like this Micheal Bolton song, featuring Kenny G….is it weird that this son reminds me of the dentist, the grocery store and a deserted shopping mall all at once?
3. How can you make time with family most enjoyable?
Sometimes spending time with the fam really sucks the big one. But it doesn't have to! Whatever card you get here will reveal the secret to actually enjoying your relatives this holiday season. Crappy cards in this position, like five of cups or three of swords, represent possible blocks that you need to be aware of.
4. How to reduce stress
We all know this can be a stress inducing time of year – creepy office parties, family, depressing shopping malls, spiraling guilt and financial ruin.  It's enough to make you want to stress eat an entire cheese ball! But fear not, because whatever card shows up in this spot will tell you how to mitigate those stressy situations.
5. Message from your Higher Self
This card gives your Higher Self (the eternal, wise and impressive version of yourself) a chance to throw its two cents in. Whatever wisdom your Higher Self imparts via this card, it's sure to help you make the most out of the holidays 🙂
Reminder: Miserable looking cards usually represent blocks and things you need to overcome, transform or be aware of!
Hope you had fun with this Tarot spread and hope you enjoy the holidays! You can find more Tarot spreads right here.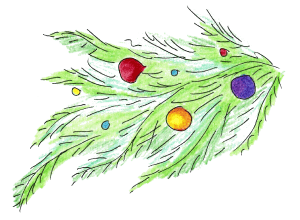 xoxo
Kate
Daily Tarot Girl