Guess what? After a 2 year hiatus, My evil twin Veronica is baaaaack! And she has everything I don't….copious cleavage, hordes of cute guys trailing after her and a hankering for day drinking. She's here to ejaculate some sass and giggle into your day with her Tarot "wisdom" and terrible life advice.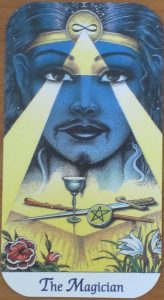 Last night while my good twin Kate was doing yoga and drinking water and I was on the couch, slamming margaritas and yelling at the TV, I had an epiphany….
For the last few months the media has been telling me all kinds of important, need-to-know things. Like what I'm supposed to be afraid of, who I'm supposed to hate, what I'm supposed to be angry about and what I'm supposed to be worried about.
Which is all well and good, but…I wasn't cut out to be cult member.
I'd rather be a cult leader. But I don't want the responsibility.
Soooooo…..I've decided to start my very own, super exclusive cult, where I'm the only one whose allowed to join. Sorry guys.
Jealous? Don't be. It's high time you did the same.
The laser focused gaze of The Magician sees right through you and he sees your potential. He says "start your own cult….a cult of one – you!" 
Imagine being both the charismatic leader AND the sole follower. It's like a weird form of masturbation, right? Love it!
First step: define your own version of utopia. If you don't do it, mainstream society will do it for you and guess what? That utopia SUCKS!
Once you have a clear idea of the world you'd like to inhabit, you are one step closer to creating that world. It's like vision boarding, but for cool people.
In the comments below, tell me 3 things that your utopia includes. (Mine includes tree houses, creative freedom and orgies. I don't need much.)