Did you know that every Tarot reader has a distinct Tarot reading personality?
Some readers read with a tell-it-like-it-is bravado while others are adept at gently holding a space for their querent. Some readers love to be dramatic while some are more laid back. Some readers love to inject humour into their readings while some prefer to exude a more therapeutic, self-helpy vibe.
I created this Tarot spread to help you explore your Tarot reading personality, discover your special reading gifts and identify areas that need a little work. So make yourself a cup of tea, give your deck a shuffle and give this spread a go!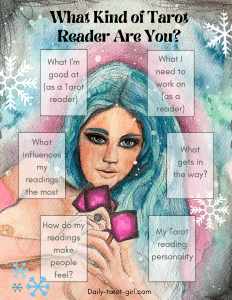 ♥ Let me know in the comments below… what card sums up your Tarot reader personality and why?