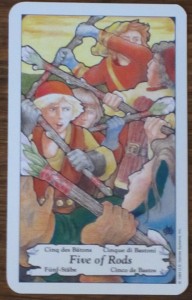 Monday's Tarot card is the Five of Wands, which is all about competition, minor struggles and conflicts of will.
However, I get the sense that this has everything to do with  your many duties, interests and goals conflicting and competing for your time and attention.
Do you feel like you have tons of things you want to accomplish, but not enough time to "do it all"? Or do you feel like some of your goals and desires actually clash with each other?
Today is the day to get organized and clear about your priorities. Be realistic about how much time to you have and what tasks are most important to you. Prioritize, delegate and see if there is a way to clear some time and space for yourself.
When your many talents, skills and ideas work together, as opposed to battling for equal attention from you, there are no limits as to how far you can go!