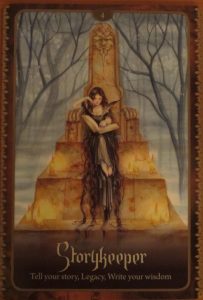 I used my new favorite deck Wild Wisdom of the Faery Oracle for today's reading and I got Storykeeper. Her message is "tell your story, legacy, write your wisdom."
You have a story to tell! Don't deprive the world of your personal wisdom and humorous insights into life. Write down your ideas as your story is meant to be told.
Likewise, you will learn so much from reading about other's stories. Biographies in particular can be an enlightening and inspiring read. As you honor other's stories and experiences you also honor your own – just don't forget to share your story as well!
Make time today to sit with pen and paper and ask yourself: what story do I want to share with the world? or, If you could only tell one story and you knew that thousands of people would hear it, what would you say? What message do you want to get across?