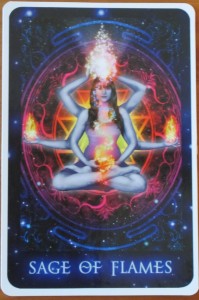 You are a woman (or man) of many hats today! Or perhaps I should say arms. The Sage of Flames, also known as the Queen of Wands, appears to applaud you on your achievements as a divine multi-tasker!
You have what it takes to make things happen today – your on FIRE! Inspiration abounds, as does energy to act on it. A rare and highly prized combo, indeed. But it won't last forever…
Get organized, prioritize, delegate, write it down and work your magic! You are unstoppable today, so enjoy it. This energy will be with you all week, but by the weekend you will need a long nap and some quality time watching fluffy rom-coms. Make sure you do your most important tasks at the beginning of the week.