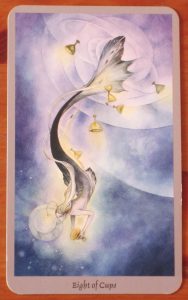 Today you may find yourself craving deeper meaning in the work that you do. The Eight of Cups signifies a need to dive deep beneath the surface, as you are no longer content to frollick in the shallow waters.
You may feel tempted to quit your job or scrap a project and just start all over again. But ask yourself this: do you really want something different or just something deeper?
The fact that you are searching for this deeper understanding and connection shows that you are progressing spiritually. What once brought you satisfaction now makes you question the whole point of it. This is a good thing!
Don't be afraid to search for the deeper meaning of things – just remember to dive deep, rather than swim away just to avoid things.
*Read a review of the Shadowscapes Tarot – the deck I used for today's reading!