Note: all Amazon.com links in this article are my affiliate links
I am often asked "how do I find the right Tarot deck?" and I always say just pick a deck that you are drawn to.
But today I want to go deeper with this…
As someone who has many, many Tarot and Oracle card decks – most of which I hardly use -I am obviously drawn to different decks a lot! Perhaps too much. But I have noticed that I go through phases in regards to the type of decks I enjoy and so I have come to this conclusion:
The kind of Tarot deck you are drawn to says a lot about you and the what's happening in your life!
I went through a phase a few years ago, where I was very attracted to busy decks like the Paulina Tarot and Shadowscapes Tarot. As long as there was a whole crap-load of stuff going on in every card, I was into it!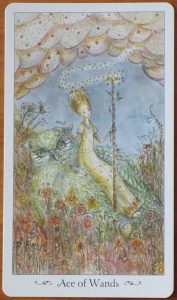 At the time I was going through a very exploratory phase in my life – trying lots of new things, traveling, taking classes and switching jobs – so this made perfect sense. Now I tend to be captivated by simple Tarot decks, whose cards express their message without any rambling or chitter chatter, like the Mystic Meg Tarot.
Tarot cards with simple art make me feel like I have enough breathing room to relax and let my intuition come into play. When I was first getting into Tarot I felt that more symbols and "stuff" on a card meant more information. Now I feel that less is more.
I feel that my newfound lust for Tarot simplicity reflects my efforts to de-clutter my life, as well as my recent irritation with people who talk too much and never get to the point!
So for those of you who want to know how to pick the right Tarot deck, I would suggest that you notice what is going on in your life right now. Are you in a state of transition or are you comfortably settled? Ask yourself what am I wanting more of? Do you want excitement, adventure and thrills or comfort and relaxation?
Tarot Tip: Choose a Tarot deck that reflects your life and the things you want more of.
So, with this in mind, what do YOU look for in a Tarot deck? Have you noticed yourself being attracted to particular types of Tarot/Oracle cards? What do you think this says about you? Tell me all about it in the comments below!!!