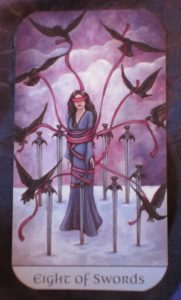 The Eight of Swords has appeared because you may find yourself in the thick of self sabotage today. Self defeating thoughts may threaten to overwhelm you, keeping you blind to reality. Remember that things are not really how they seem when you are in a negative mindset.
If you find yourself feeling helpless, down in the dumps or even just confused, your task today is to pinpoint the negative thought (or thoughts) causing you stress and find a way to turn those thoughts around.
Those negative thoughts don't need to exist – they are no more a reflection of reality than your positive thoughts. Take the time to question your thoughts: are they really true? How might they be untrue? How might the opposite of those miserable thoughts be true?
As you unravel your limiting thoughts and beliefs, the veil will lift and you will become truly free.