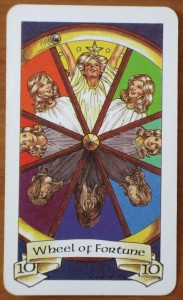 The Wheel of Fortune Tarot card is one of the most exciting cards to get, in my opinion! It shows that things are changing and won't stay dull for long.
You have had ups and downs throughout your life, but things are going towards an upswing. Just make sure you stay centered within yourself so you don't get pulled along by your emotions like a rag-doll at a fairground.
Positive changes are on the horizon for you, so get ready! Luck certainly seems to be on your side today (and perhaps for a little longer). Enjoy it!
In the comments below, tell me what "lucky" things have happened to you this week…