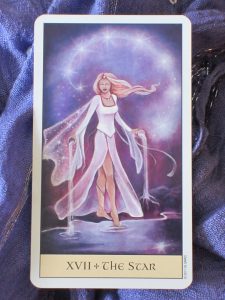 The Star is the Tarot card for Friday! The message for today is loud and clear – you are the star of your own life, so let go of fear and trust that everything is unfolding as it is meant to.
The lady in this card seems very comfortable with her star-like nature – she is confident in herself and she  has no hesitations about emptying both of her cups. She knows they can be refilled anytime.
The Star is asking you to trust in life, let go of trying to orchestrate things and really embrace the universe's unlimited abundance.
If you feel burnt out today, relax and surrender your worries and hopes to a higher power. Everything will make perfect sense by next week.