I am always on the lookout for new Tarot decks, even though I need another Tarot deck like a hole in the head! These Tarot decks really caught my eye…they are all a bit bizarre, but there is something fascinating about them 🙂
The Housewives Tarot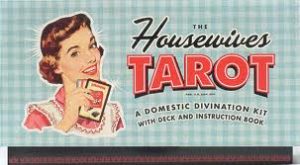 This crazy 1950's housewife inspired Tarot deck will crack you up. Created by Paul Kepple and Jude Buffum, it features horrid items like jellied salad, sewing machines and greasy haired men.
It reminds me of my grandmother's old Woman's Day and Family Circle magazines which, incidentally, featured douching ads on nearly every page. Apparently douching was big back then. I wonder if this deck features any feminine hygiene products? I will find out soon because I ordered it and its in the mail as I write!!!
Click here to check it out on Amazon.com
The Baroque Bohemian Cats Tarot
Like all cat-themed decks, this Tarot deck looks downright hilarious and bizarre. But that's what I love about cat decks!
Upon taking a closer look at these cards online, I realized there was more to them than just a bunch of cats dressed in silly outfits. Each card has appropriate symbols and it looks like a very readable, fascinating deck.
This deck is high on my list of must-have Tarot decks!
Click here to buy on Amazon
The Halloween Tarot
As a Halloween lover, this deck appealed to me immediately. Tarot and Halloween go together like Boursin cheese and a crusty baguette and I am kind of surprised there isn't more Halloweeny-themed Tarot decks out there. Unless you count all the gothic, vampire decks, which I suppose are pretty Halloweeny.
The Halloween Tarot has creatively incorporated Halloween symbols like pumpkins, ghosts, bats and imps into the four suits, replacing the standard pentacles, cups, swords and wands.
I plan on getting this deck before next Halloween so I can do some special Halloween readings!
Click here to check it out on Amazon.com
Zombie Tarot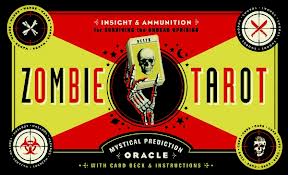 I couldn't believe it when I saw there was a Zombie Tarot! Interestingly, it was created by Paul Kepple, the same guy who created the Housewives Tarot.
I am not really into zombies or dead things – I find the whole concept really repulsive, although I have a friend who is completely obsessed with zombies. So if you are sick like that, then this deck was made for you!
Read more about this deck on Amazon
The Kitchen Tarot
This deck really caught my eye! It isn't as bizarre as the others, but its wildly creative. Artist Susan Shie has put a culinary spin on the Tarot by associating each Major Arcana card with something kitchen themed.
For example, The Heirophant is a fridge and The High Priestess is a teapot. Her art is super yummy – I love love love it all. You can read more about her art and Tarot deck right here. The cards are actually prints of her quilts (first I thought they were paintings, but no!)
The Kitchen Tarot is only the Major Arcana – the full deck is not yet completed and according to her website, probably won't be for quite some time. So I will wait patiently….
Check out the Kitchen Tarot on Amazon
Do you own any of these decks? If so, what is your experience with them?And are there any wild and crazy decks that you've come across lately? Let me know in the comment section below…