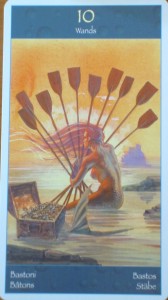 The Ten of Wands has come today to tell you to stop identifying so much with your responsibilities and "busy-ness" – they don't make you who you are.
Do you feel stressed and overwhelmed, but fear that dropping a few responsibilities will make you a lesser person? Or that you won't be as important if lots of people aren't relying on you?
If so, you might be missing the point. This scantily clad mermaid has her back turned on the chest of coins, in favor of gazing off onto the horizon – probably wondering when her big break is coming.
The message here is that joy and satisfaction don't come from lots of doing and striving, but from noticing what you already have and simply just being in the moment. Now if only I could take my own advice ;)…
If you feel this reading applies to you, feel free to share in the comments below.