To touch or not to touch? That is the question!
I am often asked "is it okay for others to touch my Tarot cards?"
There is a belief that if someone else handles your cards, their energy will be absorbed by the deck and mess up the accuracy of future readings.
This is a legitimate concern and it is certainly possible. BUT…..
To be concerned that someone's energy could mess up your cards is kind of like being worried that someone might get their germs on your doorknob. Yes, it happens, but that's what Purrell is for!
So yes, when you let other's get their grubby mits on your cards, you run the risk of them contaminating the deck – both energetically and germ-wise. But there are so many methods of clearing your deck, that this shouldn't be a concern for you.
Some Zippy Ways to Cleanse Your Deck:
Simply shuffle it and intend that the shuffling is removing any unwanted energy
Place your cards on your windowsill over night on a Full Moon! Witchy!
Put a crystal, like clear quartz, on top of the deck for a few hours
Knock on your deck to break up and dispell any leftover energy
Waft burning sage over your cards (sage is a wonderful energy cleanser – its like the Purrell of the spirit realms)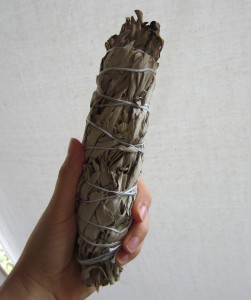 Having said all that, some Tarot card readers just prefer to be the only one handling their cards and letting others touch their cards would be just plain wrong, like sharing underwear. And that's okay too. Do what you feel most comfortable with.
Personally, if I am having my Tarot cards read, I like to choose my own cards and touch them as much as possible! This makes me feel like I am participating fully in my own reading and that the cards I end up with couldn't be wrong since I chose them. And if someone tells me I can't touch something, I feel like a five year old in an art gallery and I WANT TO TOUCH even more!
So here's my two cents:
If you have been reading Tarot for years and never let anyone touch your cards and this is the way you like it – keep doing it that way. If it works, do it.
But if you are new to Tarot and are wondering whether or not you should let other's touch your cards when your reading for them, RELAX! It's totally fine for others to touch away. In fact, I feel like this enhances the authenticity of a reading. You just need to trust in the power of your intention to clear your Tarot deck of any unwanted energies afterwards.
I am curious to hear what your take on this is! So let me know in the comments below how you feel about people touching your cards – are you okay with it? Or do you have a strict no-touch policy?