Veronica is a voracious man eater, tarot reader, cat lover and my evil twin/alter ego. She talks like a sailor, slinks about like Catwoman and always has some deliciously subversive advice for you! So without further ado…I bring you Veronica Noir!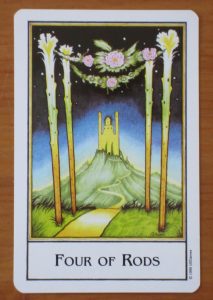 The Four of Rods is here to tell you to spend some time enjoying your hearth and home this weekend.
Delight yourself by doing boring crap like baking stuff in the oven. You know, like cinnamon buns and shit like that.
Wear an apron.
Clean things.
Make a fu*king pie!
But here's the catch – don't plan anything this weekend. Especially if you did a whole bunch of "stuff" last weekend. Have a couple of "home days" to yourself.
Genius and spiritual unfoldment do not arise from busy-ness and rushing about doing pointless things. Trust me!
But take the time to have a glass of wine and make some sort of horrid baked good – and you just might find yourself discovering the meaning of life in the process.
Or you might just find yourself mildly drunk. Either way, it's a nice time 🙂