A while ago I wrote a blog post about what your favorite Tarot card says about you, but I think it's actually your least favorite card that is the most revealing…
I was inspired by a fellow youtuber who said she was journalling about everything she disliked about the 6 of Pentacles as an exercise in shadow work. And this got me thinking about all the cards I just can't stand!
So what Tarot card do you dislike the most? Which card makes you cringe whenever it shows up in a reading?
It may not even be a typically "negative" card – perhaps The Magician just pisses you right the f*ck off or the Queen of Cups makes you want to shank someone.
Personally, I can't stand the Justice card. It just sucks.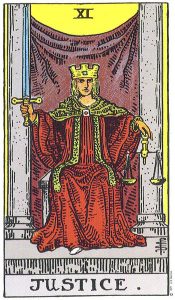 Okay, so go through your deck right now and pick out ONE Tarot card that you don't like. It doesn't even have to be the worst card for you, just one that generates a general feeling of contempt.
Now, ask yourself this: what it is that I can't stand about this card? Write it down on a bit of paper.
I'll go first: I can't stand how the Justice card is so serious. She seems totally humorless and un-mysterious like she is lacking magic and sexiness. She reminds me of what sometimes happens to people when they become "adults" – they turn responsible and boring.
Go over what you wrote and highlight the keywords. My keywords are serious, humorless, responsible and boring.
Working with one keyword at a time, ask yourself this:
In what ways am I ________ (insert keyword of choice here).
When I ask myself in what ways am I serious? I can think of lots of things. I diligently read all the ingredient labels of food and cosmetics before I buy them. I'm a non-drinker at parties and so I'm usually the only sober one. I use five methods of birth control…at the same time. I could go on, but you get the idea.
Now, look back at the card you totally hate.
If there's a figure on the card, does it remind you of anyone?
Lady Justice reminds me of a dear friend who is so incredibly serious and rigid about everything that it's a struggle to connect and have fun with her. I'll say "hey let's have a girls night out!" and she'll say "no, I have to clean the mold out of my window sills. It needs to be done."
What feeling arises within you when you gaze at this shitty card?
When I look at Justice, I feel that b*tch is judging me. I feel judged. And I feel like I'm not quite up to snuff.
Where in your life do you sometimes feel this way?
This can be a real eye opener. Often, the Tarot card we despise brings up feelings that we also happen to be experiencing in other aspects of our life.
In my case, I judge myself constantly. I am always thinking things like I didn't get much accomplished today, I need to be more organized and hardworking, I'm going nowhere in life.
My inner judge is very active and mean so when I see a representation of her in the Justice card, I'm irritated.
Okay, so now what?
You've identified the parts of yourself that you dislike. You've identified the feelings that you dislike having. But now what? Where do you go from here?
Ask yourself this….
What is the upside to being _________(keyword of choice)?
So I would ask what's the upside to being serious?
Just because you don't like a certain part of yourself, doesn't mean it doesn't serve you well sometimes.
Then ask: What is this feeling of _______ trying to show me?
So I would ask what is the feeling of judgement/criticism trying to show me?

Negative emotions are there because they're trying to tell you something.
When I judge myself harshly and feel crappy about it, I'm trying to tell myself something – that I'm not living up to my full potential, AND/ OR that I need to be kinder and more accepting of myself.
From there, I'll leave it up to you to decide what changes you want to make or if just having the awareness of all of this is enough. Sometimes you don't actually need to do anything at all. Which is nice 🙂
Tell me in the comments below: what card did you choose and what insights did you come away with as a result?