Everyone has a dark side. Everything has a dark side.
And Tarot cards are no exception!
Each and every Tarot card has both a light and dark aspect and today I want to focus on the BAD side of those sunny, bright, cheery Tarot cards.
This is a helpful exercise to do when you get a positive card in a negative position in a Tarot spread. Like when you ask "what do I need to let go of?" and you get The Sun or the Ace of Cups.
So let's get crackin'!
All Tarot cards shown in the above video are from the Dame Darcy Mermaid Tarot
The Sun
This is the quintessential "positive" Tarot card and it's hard to find anything negative about it.
But let me try…
Do you remember back in the mid-2000's when The Secret came out and everyone was going on and on about positive thinking? To the point where it got really annoying?
Have you ever felt pressured to be more positive?
Or to be extra-super-duper positive even when things were unacceptably horrible?
Like working for a company that treats its staff inhumanely but then demands that you show "team spirit" and enthusiasm and smile all the time. That shit is soul destroying.
This whole discussion makes me think of a great book I read a couple years ago – Bright Sided : How Positive Thinking is Undermining America by Barbara Ehrenreich.
Two of Cups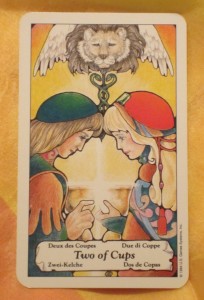 Two people, clinking glasses and putting their heads together in a glow of mutual appreciation.
What could go wrong? Plenty!
Meeting a like minded individual who shares your values and vision can be intoxicating. But once the thrill fades and you realize that you must also compromise – what used to be a strong connection might start to feel like a prison sentence.
Sure you might agree on eating vegan, going to yoga retreats and watching George Carlin stand up routines, but then you discover they can't load a fucking dishwasher properly and love to eat Twizzlers and go to baseball games…god what were you thinking?
Now it's your turn!
I've picked a really uplifting and happy card for you to tear into…the Three of Cups!
I wish there was a secret formula for figuring out the "dark side" of a cheery card, but there isn't. So you just have to contemplate it and get creative…
Tell me, in the comments below…what do you think this card's dark traits are? What is the downside of all this celebration and camaraderie?
I can't wait to hear your pessimism!!!!