Welcome to my Tarot Meanings Deep Dive series! Each week I'll be taking you on a Tarot journey into ONE major arcana card to uncover it's secrets, symbols and messages and giving you some Tarot journalling questions to ponder…
The Fool
Join me as I dive into The Fool to reveal his secrets, wisdom, dark side and most importantly – what he's trying to tell you about YOUR life!
Keywords: New beginnings, risk, adventure, trust and optimism!
The Magician
Let's dive into The Magician – sexy, sneaky, seductive and powerful, he has a wealth of wisdom to share with us!
Keywords: manifesting, direction, illusion & trickery
The High Priestess
Let's dive into The High Priestess – perhaps the most mysterious and secretive card in your Tarot deck!
Keywords: subconscious, intuition, cycles & rhythms
The Empress
Today we're diving into The Empress – the sensual and luscious mother-goddess of the Tarot! Grab a pen and notebook, make yourself a cup of hot cocoa and let's settle in together….
Keywords: abundance, creativity, nurturing, allowing & receptivity
The Emperor
Get ready to dive into The Emperor – perhaps one of the most misunderstood figures in the Tarot. Everyone thinks he's a stuffed shirt, but he's actually quite the rebel!
Keywords: Sovereignty, stubborness, power & control
The Hierophant
Today we're diving into The Hierophant – one of the least "fun" Tarot cards, but fascinating nonetheless!
Keywords: Institutions, conformity, teacher
The Lovers
Today we're diving into The Lovers – one of the juiciest cards in the whole deck! YES! Grab your Tarot journal and pen, make yourself a hot cup of something and settle in….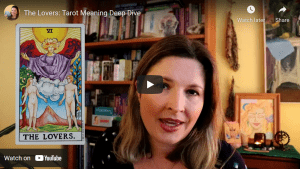 Keywords: attraction, temptation, primal desire
The Chariot
Today we're diving into The Chariot – a positive and powerful card that's full of energy, drive and forward motion!
Keywords: progress, success, alignment
Strength
Today we're diving into Strength to explore how gentleness (the maiden) can relate to wildness (Lion) and how we can face our fears and meet our challenges with gentleness, respect and compassion.
Keywords: Inner power, gentleness, respect, compassion, boundaries
The Hermit will be added on Dec 1st 🙂