The other day I was perusing a Tarot forum and I came across a lot of negative comments regarding Angel Cards and Oracle decks that are totally positive and uplifting.
The problem that many of the forum commenters had was that all-positive decks do not accurately reflect the reality of life, which is a balance of light and dark.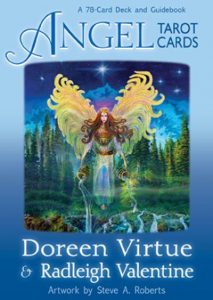 To quote one commenter: "I'm not into the totally light and fluffy stuff. Life is both darkness and light–both are useful and both have their places. Denying one or the other is cutting oneself off from a whole realm of human existence."
Another commenter was a bit harsher – unfortunately I couldn't find the original quote, as the comment thread for this topic was huge – but he thought that Angel Cards appeal to people who don't want to think and that these types of decks were dumbing people down.
While I LOVE gentle and uplifting decks with Angels and Fairies and cheery phrases, I thought these commenters had an interesting point.
Personally, I have quite a range of Tarot decks in my collection, although I have noticed I tend to gravitate toward the more uplifting decks, like the Crystal Visions Tarot.
Since I read with both "edgy" Tarot cards and Angel Oracle cards, I can honestly say that I don't really find one to be superior to the other when it comes to getting insight and guidance. But I prefer the happy, sunshiny decks.
I do think that reading Oracle cards that have a full message written right on the card is way easier than reading Tarot cards that may just have a number and picture. But you know what? Who cares? There is enough things in life that are hard, doing readings doesn't have to be struggle.
I think people are attracted to all-positive decks like Fairy Oracle cards and Angel Tarot because there is enough disturbing shit in the world and people don't necessarily want to feel disturbed when they turn over The Devil or Ten of Swords. And that's okay!
Studying Tarot is wonderful if you want a challenge and there is real value in understanding the "scary" Tarot cards, simply because once you shine a light on them they are no longer scary (a topic for another blog post!). But if simply getting higher guidance and comfort is what you want, Angel cards do the job amazingly well.
Tarot and Oracle cards are simply cards with pictures and words on them. They are designed to trigger our intuition, imagination and creativity. Go with the method that works best for you.
What do YOU think? Do you prefer Tarot cards or gentle Oracle decks? Or both? And do you worry that the all-positive decks are turning people into morons? Are Fairy and Angel decks too fluffy or do they have their place?
Join this juicy discussion in the comment section below! Can't wait to hear your thoughts!