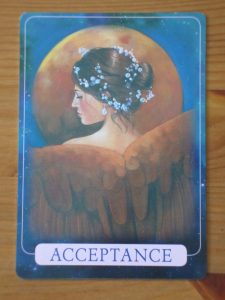 Today's Angel card is all about Acceptance. Right now, before you do anything else, take a deep breath and say to yourself "everything is as it should be. Everything is unfolding in perfect timing."
Do you notice a deep, internal relaxation happening when you say that to yourself? Give yourself permission to just accept everything as it is right now. Let go of the pressure to change and improve things.
You may not realize it, but you are perfect as is. Your life is perfect right now, everything that is "supposed" to be happening is and by simply being present you are living your purpose fully.
You don't have to do anything today but just be. So crack open a beer and put your feet up! (Just kidding). But you totally can if you want.