Veronica Noir is a whip cracking, advice giving, diva extraordinaire who loves her Tarot cards almost as much as her fabulous self. She is the Daily Tarot Girl's evil twin and can't wait to mess up your life with her cracked out advice……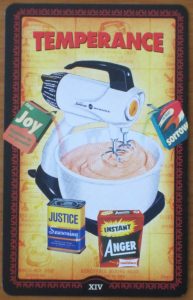 Temperance is the Tarot card of the day and it answers the question what makes life so much fun?
A mix of things! Don't let those fools in your life tell you that there is just one secret ingredient to happiness. There are many….
Variety is the spice of life and unfortunately you probably don't have much of that in your day to day routine, do you?
Society is set up in such a way so that it becomes hard to find variety – boring things like monogamy and a steady job can get you down in the dumps. But cheer up! I have a saucy suggestion…
Create balance and variety in your life by breaking some rules. By its very nature, modern life is completely out of balance and totally fucked up. Here's how to remedy that:
1) Call in sick and take a beach day (but wear a hat and sunglasses so no one recognizes you!)
2) Have a hot, steamy affair (even if its just in your head)
3) Have another hot, steamy affair (even if its just with your husband dressed up in drag)
4) Perform one act of rebellion every day – ignore your alarm clock, cancel your cable TV, keep your cell phone turned off all day long, that kind of thing!