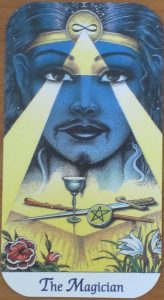 You are The Magician in your own life – enjoy it! Today you will meet plenty of opportunities to start creating magic and shaping your life the way you want it.
But the first step is to recognize yourself as the magician that you are – kick any "loser thoughts" that might creep up when you least expect it.
You have all the tools at your fingertips – you know about the Law of Attraction, vision boards, meditation, changing your thoughts, etc, etc – now its time to really dive into putting all that stuff to good use!
If you still can't see yourself as a powerful magician, try meditating with a quartz crystal resting on your third eye (the space between your eyebrows) – this tends to activate your inner sight and connect you to the divine. Try it!
Note: Tune into the Allie Theiss Show tomorrow night and hear me natter away about Tarot! 5pm PT/8pm ET