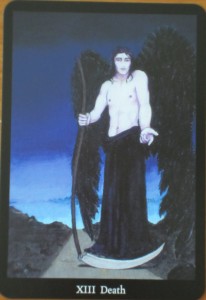 Death beckons you today, urging you to give something up, to let go and enter a new phase of your life.
Some endings are easy and you have no problem saying good riddance!, but some endings are difficult and you want to hold on forever and ever.
Whichever type of "ending" you are dealing with right now, know that it is appropriate for this stage on your path – its a juncture that you must cross if you want to keep going.
This angel of death seems to be saying "its okay, don't be afraid" as he urges you forward. Whatever it is that you are releasing right now, its a pivotal part of your journey.