Veronica is my evil twin and partner in crime. You can find her camping out in metaphysical bookstores and napping through a yoga class. When she isn't scrawling chick-porn on her laptop, she's writing Tarot readings for this blog…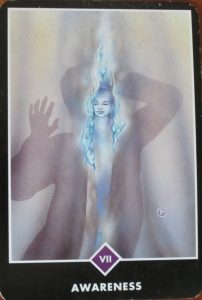 Your Inner Buddha wants you to just chill the fuck out already. Seriously.
Your personality/ego self is all like "aah! What must people think of me? I don't make enough money! I look like a bloated whale in these pants! How am I going to get everything done today?"
Meanwhile, your Inner Buddha reclines on a chaise lounge with a joint in one hand, not giving a shit about any of it.
It's time to meet this mysteriously calm little person inside of you….
When you think "what will the bitches in my office think of my new shoes?", your Inner Buddha thinks "where can I find some velcro moccasins?"
When you obsess about whether or not your partner really loves you, your Inner Buddha couldn't care less. It's completely fucking irrelevant.
It's not that your Inner Buddha doesn't care about anything, it's just that it doesn't care about stupid pointless shit. And for many of us, worrying and thinking about stupid pointless shit can consume a pretty big part of our day.
So this weekend, don't try to stop worrying or thinking about stupid pointless shit. That never works. Just ask yourself "what would my Inner Buddha do?"