It's time for a Tarot challenge!
Are you ready?
Okay, here's your situation:
You are doing a Tarot reading for Markus, a smouldering hot 25 year old. Markus is an artist – he specializes in painting pixies and water nymphs and he is really quite talented. But he can't seem to make a living from his art, so for the past five years he's been working nights stocking shelves at a sex toy distribution company's warehouse.
He is fairly happy in his life but his dream is to paint pixies full time and quit his night job. He asks you "how can I be more financially successful with my art?"
You draw two cards: The Hermit and the Seven of Wands.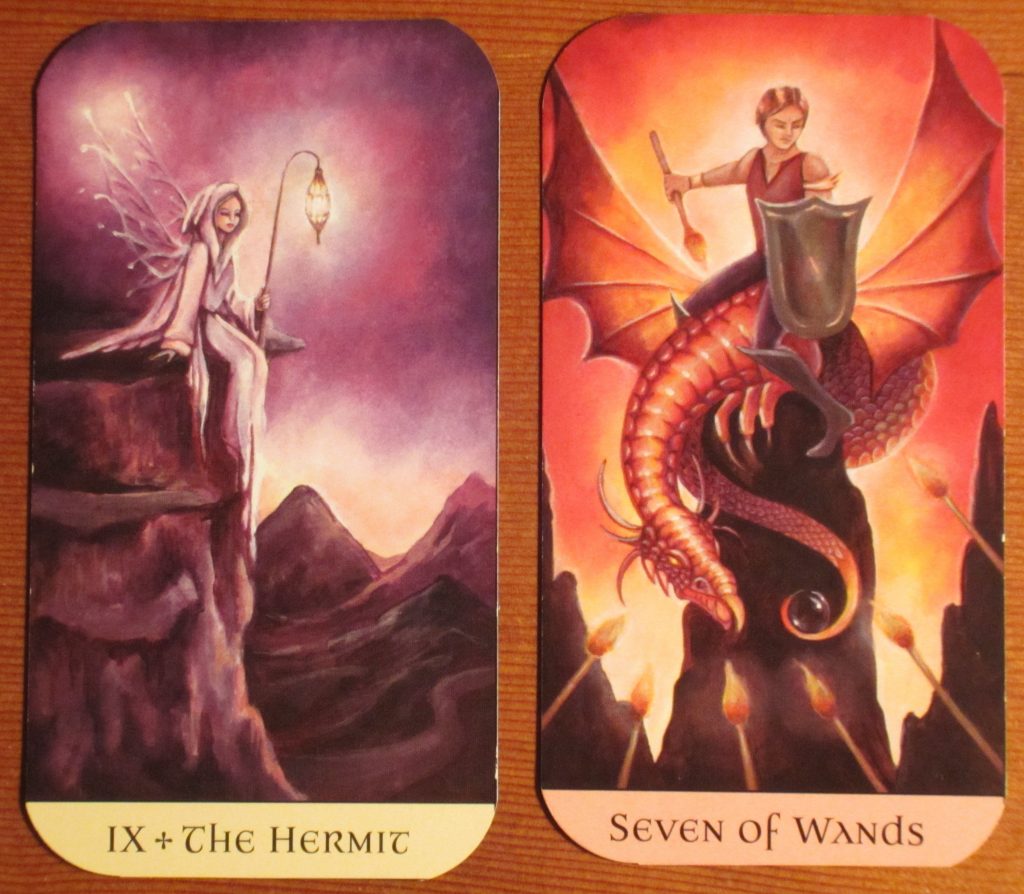 How would you interpret these two cards? What advice would you give Markus?
Please feel free to leave your interpretation in the comments below!
The purpose of this exercise is to practice your Tarot reading skills. Markus is just a character and situation I made up.
Click here to see how I interpreted these cards
+
Markus, it's clear to me that spending time alone, meditating and pondering things will help bring about a solution for you (The Hermit). When your right in the thick of things it can be hard to see the forest through the trees and this is why you aren't sure how to make more money from your art. Get some distance and perspective from it - detach emotionally and look at your art through a different lens - a clear path will emerge eventually. Detaching might mean not taking things personally when it comes to your art, which leads me to the next card - the Seven of Wands.
The Seven of Wands shows that you are feeling defensive about this issue, like making money from your work will mean you have to be competitive or something. It also shows me that you fear attack and criticism. Perhaps part of you really fears having your art judged and critiqued and deemed unworthy. This seems to be the energy that is holding you back and creating fear for you.
The more you relax and let go of this idea, the more quickly you will earn and income from your art. Perhaps letting go of those fears will make you feel more comfortable about putting yourself out there and even networking with other artists. Again, look at The Hermit and notice how calm and detached she is - other's opinions don't define her, so she doesn't fear them.
One theme I notice is that both The Hermit and the guy in Seven of Wands are on cliffs or pedestals. The advantage of this is that you have a nice view of things - a birds eye view. The downside is that you have farther to fall. You may fear that once you attain success you could lose it, or people will judge you more harshly. It's clear you have much passionate and fiery energy around your art (Wands), but it needs to be balanced with the calm, cool and intuitive nature of The Hermit. Meditation, nature walks and reflection will help you discern the voice of your intuition from the voice of your ego so that you can let go of fear and pursue your dream with newfound energy, enthusiasm and calmness.