Just in time for Halloween, I've a got a spooky new Tarot card spread to help you get in touch with your dark side!
You may have come across my evil twin / alter ego Veronica on my Friday's with Veronica blog posts and wondered how I ever came up with such a crazy character. So I decided to create a Tarot card spread to help you get in touch with YOUR evil twin / alter ego!
Your alter ego is basically a combination of your shadow self and your fantasy self.
Your shadow self is the parts of you that you keep hidden so people will be friends with you and you won't go to prison. Your "fantasy self" is the person you wish you could be.
Repressing this part of yourself will lead to an uninspired drab life that is full of beige couches and eating Pringles out of boredom.
But integrating your evil alter ego into your day to day life will add spice and vibrancy – suddenly your life will be full of daring acts, scintillating coffee dates and hysterical laughter!
So here's my Tarot card spread. My hope is that it helps you identify and get to know your alter ego a little better so that you can begin integrating this exciting part of yourself into your daily life…
Meet Your Alter Ego!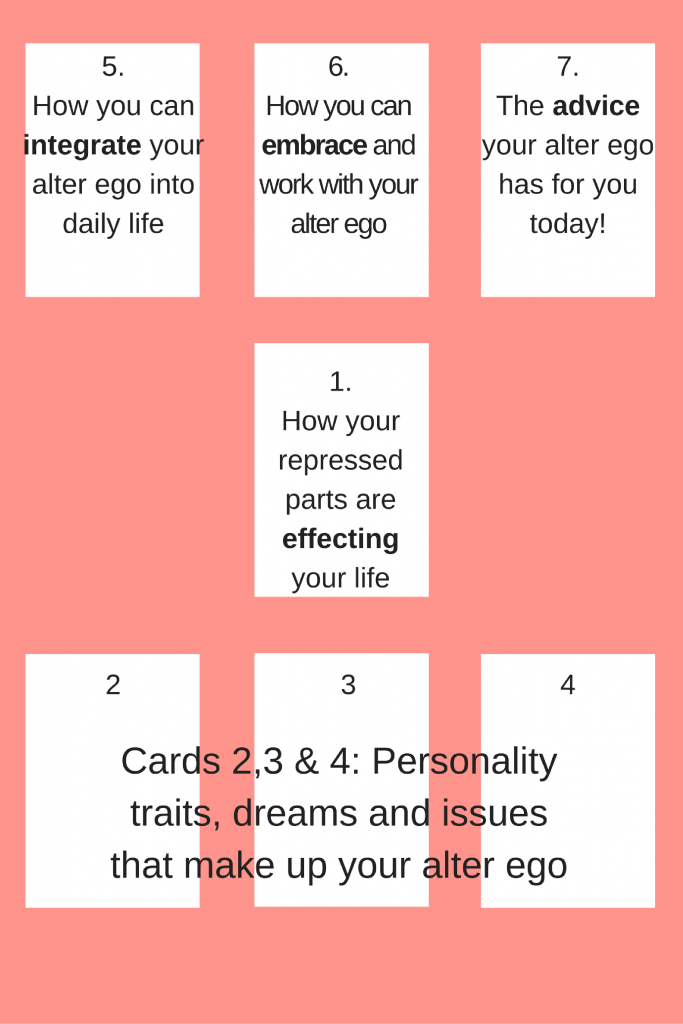 Card #1 - How the repressed parts of yourself are effecting your life
When you repress something, it doesn't go away. It goes underground and forms a plan of attack on your clean, nice, orderly life!
If you get a really positive card here, like The Sun, keep it's positive and negative meanings in mind since repressing any part of yourself (good or bad) may have both negative and positive consequences.
Cards 2, 3 and 4 - Personality traits, dreams and issues that make up your alter ego
This is really the meat of the reading! You should get a nice sense of what your alter ego is like from these cards. These cards may represent negative traits that you are repressing, positive traits that you hide from others, wild dreams that you've dismissed as unrealistic or simply just issues that you don't want to face.
Card #5 - How you can integrate your alter ego into your daily life
There's a fun, safe way to integrate some of the spiciness and flare of your alter ego into your life and this card gives you some clues.
Again, if you get a card that confuses you, forget the book-meaning for a second and pay attention to the symbols and what's happening in the card. Here's an article that walks you through what to do when a card doesn't make sense.
Card #6 - How to embrace and work with your alter ego
This is kind of similar to position 5. If you still feel like you haven't really connected with your alter ego yet, this card can give you some ideas as to how you can.
When I first did this spread, I got The Lovers in this position. I read it to mean that I can work with my alter ego to attain a greater level of self acceptance and wholeness but also that I should go on "dates" with my alter ego - like hour long jounaling sessions in coffee shops.
Card #7 - Advice your alter ego has for you today!
This card represents what your alter ego wants you to do right now. How they think you should be living your life and where your priorities need to go. Of course, you may choose to ignore it - but it will be eye opening nonetheless!
Here is a video demonstration of this spread:
Tell me about YOUR Alter Ego!
I hope you have fun with this spread and don't forget to leave a comment below 🙂 I would love to hear all about your alter ego!!!!
xoxo
Kate
The Daily Tarot Girl