I decided a month ago that I needed a break from The Internet (including Netflix). And I've been spending each day since meticulously planning my escape!
The internet can be a wonderful thing – a source of creativity, connection, learning, etc. But it can also be used for other things (things I would never do!) like stalking an ex, reading snark blogs, watching porn and immersing yourself in deliciously gossipy FB groups!
In other words, the Internet can be a massive distraction. And right now I long for quiet, emptiness and wide open space so that new ideas can float in. So I decided to take a two week break and use that time to do some soul searching, clean my kitchen cupboards and (hopefully!) get some inspiration for my next Tarot project.
Since I won't have Netflix to fall back on for evening entertainment, I plan to cozy up to my Tarot deck each night. While I was searching my site for Tarot exercises, I found 3 that I'd completely forgotten about!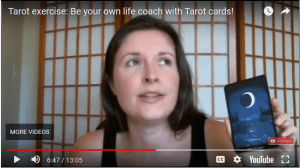 This is a good one if you have a particular issue, question or problem that you're working on. It's a 9 step exercise so give yourself a bit of time for this one!
If you love reading Star magazine in grocery store lineups, you'll love this one. Who is your celebrity crush? Now, find out what this says about you…
Deep down you have a hidden desire and it drives your behavior and life decisions in all sorts of ways. This Tarot exercise helps you uncover that hidden desire…
I hope you have fun with these Tarot exercises and that they inspire you to engage with your Tarot cards more often! But what I really want to know is…what's the longest you've ever been away from the internet? And what was it like for you?
xoxo
Kate