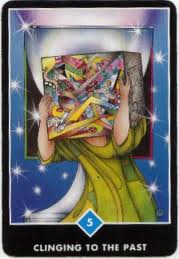 This card is from the Osho Zen Tarot to remind us that we all find ourselves clinging to the past from time to time. However, sometimes we do this subconsciously without really realizing how we are creating unhappiness for ourselves.
Today you will have the chance to catch yourself doing this and to really question your mind and its silly behavior. You might catch yourself re-hashing a conversation you had with someone or feeling vexed about some old disagreement or wrongdoing.
You may be able to laugh at your mind or ego, especially when you realize it is creating stress for you when in reality, there is nothing to get upset about. It's in the past!
Today, pay special attention to how often you think about the past and ask yourself why. Do you have unfinished business? If so, what can you do today so that you can move forward in your life? When we cling to the past we miss out on the present moment – which is where all the awesomeness is!!!