Veronica is my bad to the bone alter ego and she is here to slap some sense into you today! She took time out of her hectic day of relaxing, rejuvenating and re-energizing to write you this reading – so you'd better listen up and take her advice…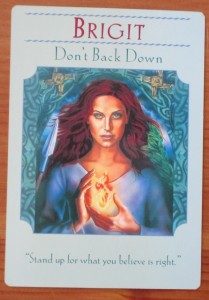 "DON'T BACK DOWN!"
That's what the Goddess Brigit is sayin' to you right now.
Don't let others manhandle you into doing stupid shit you don't want to do this weekend. Stick to your guns.
If you set the intention to paint and meditate this weekend, and your most boring friend says "hey, lets go traipsing around stores all day long and buy a bunch of pointless crap," you have to say NO!
Yes, people will try to drag you into their nonsense all weekend long if you let them.
Horrid family barbeques and tiresome fundraising events will consume your life if you're not careful….so bring out your inner bitch – I mean Brigit – and start laying down the law.
You've got some serious shit to do this weekend and can't be sidetracked by willy-nilly-nancies who wish to frittle away the day!