Veronica Noir is The Daily Tarot Girl's fearless, daring (yet evil!) twin. When she isn't offering up salacious advice on a Friday, she's cruising around the Mediterranean on her yacht with a couple of boy-toys, a good book and a cool mojito. In other words, this crazy bitch knows how to have a good time! Here's her take on the Seven of Cups…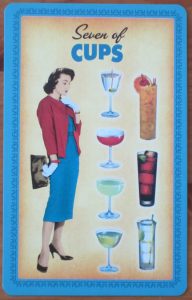 Choices, choices!
This lady seems to be pondering her choice of drink "Hmmm, what should I have? The Long Island Iced Tea, the dirty martini, the G&T, the rum and coke, or the…"
Um, slow down Betty! Maybe you should just have a water.
Today you will be faced with a multitude of choices – which are all the same.
If you find yourself in a state of indecision or overwhelm, maybe its because all the options are a bit blah.
Don't let anyone railroad you into making a decision that you aren't 100% happy with. The unimaginative, raggedy-ass masses that surround you will say that you have to decide and make some concessions. F*ck em!
If you don't like the options on the table, create new ones.
Oh, and if I were that sulky lady in the card, I'd pick the tall orange drink in the top right. Looks fruity!