Since I love, love, love making lists and coming up with my top 5 movies, top 5 books, etc, I thought it would be fun to list my top 5 Tarot decks. Keep in mind this is the top 5 Tarot decks amongst the Tarot decks I own and not all Tarot decks in existence! So of course, my top 5 Tarot decks list is a little biased. But if I could only keep five of my Tarot decks (god forbid!) these are the ones I'd grab:
note: all Amazon.com links in this article are affiliate links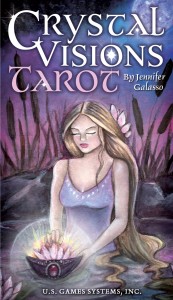 I just can't get enough of this magical, girly, touchy-feely Tarot deck! I love everything about it – except the white borders, which I hacked off with a paper cutter. At first glance you may think oh, this is another once of those wimpy, fluffy, bullshit decks…but no! It's not. It's totally awesome in so many ways.
I go on and on about how great the Crystal Visions Tarot deck is right here, so I will keep it short here. This deck never disappoints me. I always feel comforted and supported when I do a reading with these cards – its kind of like talking with a really wise friend who knows me well, is totally honest, but never a bitch.
The colours are delicious, the energy is divine – and I have never had an "off" reading with this deck yet! This is my go-to deck when I am all in a flap about something.
To see the various readings I have done with this deck, click here.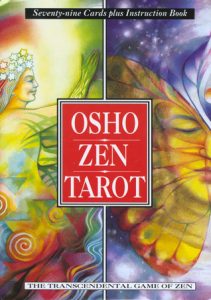 The Osho Zen Tarot is one bad-ass deck! I love it because it puts a whole new spin on the traditional Tarot cards. Its new-agey and "spiritual" – but not in a cheesy way. I feel like these cards were really designed for contemplation, not fortune telling.
Most importantly, these cards feel sublime when you shuffle them, which is a trait few Tarot decks possess, quite sadly. I love the way these cards pull me back into the present moment, into my center, so I am not spazzing out over life.
Reading with the Osho Zen deck is like sitting down with a really good therapist…..almost! Hop over here to read my full review on this deck.
The Druidcraft Tarot is a delightfully witchy deck with a distinct pagan feel. For some reason this deck reminds me of Fall, my favorite time of year, when its crispy and smoky outside and almost Halloween.
The cards are kind of big, which makes shuffling a pain in the ass, but the beauty of the cards makes up for this. I don't really use this deck much, but I bring it out on special occasions and to give myself important readings.
This is a very earthy deck and the people in it are kind of fugly, which huge feet and beer guts and stuff like that. Overall, the cards have such an old, wise feel to them, making this an extra-special deck.
Go here to see how I interpreted some of the cards from this deck 🙂
I really like this deck. I can't put my finger on what it is exactly that I like so much, but these cards just have a nice feel to them – a good energy. Plus, the cards themselves are slightly shorter than most of my decks, which makes shuffling really easy. Bonus!
This deck does something odd – it seems to personally attune to each person I am reading for and when I read for myself it has been spookily accurate! I am still getting to know this deck, but I can easily say that it one of my faves.
You can see all the readings I have done with this deck right here.
This deck is a total classic and a must-have for any serious Tarot deck hoarder! Despite the fact that this is a more recent addition to my collection, it feels like I have been reading with these cards for decades.
The Morgan-Greer Tarot is a product of the 70's (first published in 1979) which is apparent in the appearance of the "pornstache" on many of the men. Fun stuff!
The best thing about this Tarot deck is that THERE ARE NO BORDERS on the cards! I can't stand annoying borders – I love it when the image comes right to the edge of the card.

*So now I want to know….what are YOUR favorite Tarot decks? What is your go-to deck that never fails you? Tell me in the comment section below!