Veronica Noir is my evil twin who is way more badass than myself. She is 10 x hotter, smarter and crazier than me and every Friday I let her do a one card reading on my blog. Her advice is always dreadful and sometimes even a bit rude. So without further ado…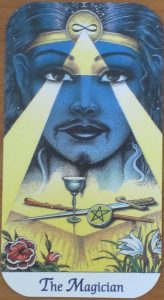 Today's Tarot card is The Magician and this magician in particular has a real panty-melting stare!
He seems to be encouraging you to put intensity into all that you do today. Don't half-ass it, don't be soft, don't shuffle through it. Go full tilt!
The Magician is all about harnessing energy and then directing it to a specific goal.
If there's something you want, you need to go after it like a sexual predator. No holds barred. Bystanders be damned!
One way to do this is to notice what your "energy drains" are. If your exhausted all the time, you sure as f*ck aren't going to feel like goal setting.
For me, my energy drains are: boring people, grocery shopping, The John Tesh radio show and reality TV.
What are yours? Tell me all in the comments below!