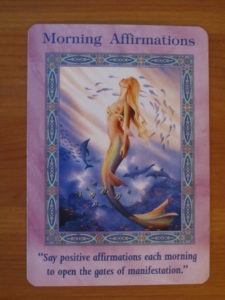 A wonderful way to manifest what you want in your life is to do morning affirmations. It is amazing how quickly you will see results when you spend five minutes each morning affirming what you wish to be true.
This oracle card says "Say positive affirmations each morning to open the gates of manifestation". Affirmations, when done correctly, will lift your energetic vibrations. If this is done in the morning, it can effect your vibration for the whole day. This is how you start your day off right, as it will attract positive experiences, opportunities and synchronicities.
Here are my guidelines for doing effective morning affirmations:
start by choosing 1-3 affirmations. Work with these for at least two weeks.
write your affirmations down on a recipe card
your affirmations should be in the present tense, as if they were already true or already happening. (For example, write "I am making a good income doing what I love" rather than "I will be able to make a good income doing what I love")
believe your affirmations to be 100% true as you are saying them (get into the feeling state of what it would feel like for your affirmation to be true)
read your morning affirmations at least three times every morning. Each time you say the affirmation, visualize it implanting itself deep into your subconscious mind.
Good luck and have fun!
Enjoy this reading? Subscribe to my blog and get daily readings in your email!