Disclaimer: some of the links below are my Amazon affiliate links, which means if you purchase a deck I recommend through that link, I get a commission.
Have you ever stared at the massive array of Tarot decks available online and thought "fuck. Which one do I get?"
There are thousands of Tarot decks out there and it feels like new ones are popping up every second. While this massive amount of choice is exciting, it's also incredibly confusing and overwhelming.
Which Tarot deck is for you? Which one should you buy?
There needs to be a Tinder app just for Tarot decks! But since there isn't one, I bring you the next best thing….my signature Daily Tarot Girl quiz that matches your personality with an appropriate Tarot deck.
You're welcome! Now take the quiz…
1. You're sick with the flu and forced to stay at home all week. You use this time by…
A) Powering through a box of salted caramels while watching all five Twilight movies back to back – without shame.
B) Languishing in bed and telling friends and family that you "might not make it". Oh, and also watching lots of grisly true crime shows.
C) Finally testing out all the herbal medicines that you spent all Summer making.
D) Sitting on the couch, glued to your laptop or smartphone, catching up on email.
2. Which vacation appeals to you the most?
A) A sailboating trip where you get to skinny dip with dolphins and have giggly, day-drunk picnics on deserted islands.
B) A tour of haunted hot-spots in London, with plenty of museum pit stops.
C) Staying in a remote eco-village where you sleep in a spherical treehouse with a composting toilet. Orgyatic dance parties happen every evening in the main lodge!
D) An all-inclusive in Mexico or a Caribbean cruise. Fuck history and all that dumb shit, you just wanna go someplace sunny where nothings expected of you.
3. In the kitchen, you love to make…
A) Glorious cherry pies, lemon cupcakes with copious buttercream frosting and magnificent chocolate layer cakes!
B) Takeout. You've spent most of your life developing your intellect, but your cooking skills? Not so much!
C) Something vegan, fermented and KALE.
D) You rarely have time to dick around in the kitchen but when you do it's tuna casserole, chicken noodle soup and lasagna – you know, comfort food!
4. Your favorite thing about the internet is…
A) Kitten videos! Grumpy Cat memes! Green juice recipes! Etsy! Pinterest! OMG soooo much!
B) Snark blogs. Twitter fights (observing them, not participating). And writing scathing reviews on Amazon.
C) How you can share information about gardening and stuff and learn really cool things like how to make kombucha and how to cure yeast infections with garlic yogurt.
D) Google maps
5. Most of your sex fantasies take place…
A) In a mythical land of your own imagination where everyone lives like primitive hunter gatherers except with electricity and showers. Everything's organic and everyone's super hot and buff.
B) In a library
C) Outside in nature! Also, see option A above.
D) In bed
6. Your #1 pet peeve is…
A) People that need scientific proof to believe in something. God those people suck!
B) Trailers for "feel-good" movies like fluffy romantic comedies or movies with kids in them. Yuck!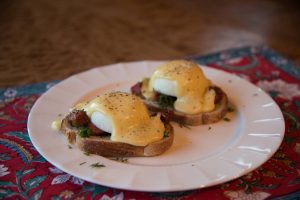 C) Fair weather vegans
D) Facebook. It's a frivolous time suck of epic proportions – a voyeuristic black hole of boring baby photos, pointless opinions and self congratulatory crapolla.
7. Your favorite reading material consists of…
A) Harry Potter, Lord of the Rings, Game of Thrones and some pretty weird mermaid smut that you secretly downloaded to your Kindle.
B) The Girl with the Dragon Tattoo, The DaVinci Code and anything by Agatha Christie. Murder mysteries, true crime and Victorian ghost stories are right up your alley.
C) How-to books on wildcrafting, living off the land and anarchistic utopian manifestos get you all fired up!
D) The manual that came with your new Bissell Stick Vacuum.
8. Your perfect day would be spent…
A) Cuddling kittens and puppies and eating strawberry waffles while Daniel Craig (circa 2008) massages your feet.
B) Perusing antique bookstores, sipping Turkish coffee and running into your favorite old University prof who just so happens to remember you (and your above average intellect) after all these years.
C) Marching passionately in a political protest, meeting a sexy fellow protestor and heading back to your caravan (or tiny-house) for a "sensual experience" involving organic hemp oil, Nag Champa incense and that overpriced yoga bolster you never use…until now.
D) Getting your taxes done early, not hitting any red lights on your way to work and coming home to discover the new IKEA catalogue waiting for you in your mailbox!!!!!!!!!!
Okay, now tally up your score!
Mostly A's – Mystical Daydreamer
You're a happy soul who loves to daydream and roll around in your imagination. Some say you're spacey but it's because you're too busy traversing other worlds to be fully present in this bland one. And you need a Tarot deck that reflects that!
Decks with fairies, mermaids and dragons will get your heart pounding while new agey decks with sun rays, chakras and angel wings might strike a chord, too. You  prefer uplifting decks over dark, broody ones and you're magically drawn to animal decks.
Here are some suggestions: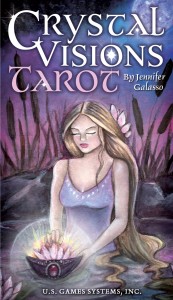 Dame Darcy Mermaid Tarot by Dame Darcy (This one can be tricky to find)
Angel Tarot by Doreen Virtue
Mostly B's – Intellectual Cranky Pants
You're overly brainy, pessimistic and moody and you love to take a stroll on the dark side. You never turn down a challenge! You don't want "easy" and you don't want "fluff" – you want a deck that's confusing (to idiots), darkly intriguing and something you can really sink your teeth into.
Thoth Tarot Deck by Aleister Crowley
Game of Thrones Tarot by Liz Dean and Craig Coss
Tarot de Marseilles by Jodorowsky
The Vampire Tarot by Robert Place
Tarot of the Sweet Twilight
Secret Tarot
Mostly C's – Rebel Hippy
You're a rebel, an eccentric, a brave trail blazer who lives outside the system and grows her own kale. You love getting out for long nature hikes (or so you say), doing full moon rituals and protesting Monsanto. You're interested in decks that emphasize nature, animals, feminine power and Wicca or Druidry.
Motherpeace Tarot
Tarot of the Pagan Cats
Mostly D's – No-nonsense Nelly
You're a practical, no-nonsense individual and you don't have time for all the bullshit that seems to inundate everyone these days. You know what you want and where you're going. No one's ever accused you of being "too exciting" but who cares? You need a deck that brings you the goods straight up without any fip-fop fappery.
Since I know you've got somewhere to be right now, I'll make this quick…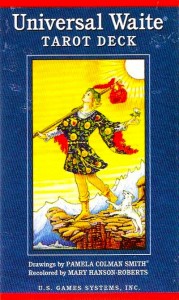 The Universal Waite Tarot Deck
Morgan-Greer Tarot
Robin Wood Tarot
Anna K Tarot
Was I right? Was I right?
I want to know! What personality type were you and were my Tarot deck suggestions to your liking? And what decks would you recommend? Tell me in the comments below…