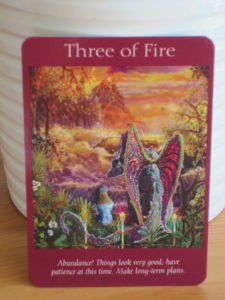 The Three of Wands Tarot card (or Three of Fire in the Angel Tarot Card Deck) bears the message "Abundance! Things look very good, have patience at this time. Make long term plans."
Now is a good time to make long term plans in the areas of your life that feel stable and abundant. This can be a valuable time of reflection and contemplation.
When you experience success with something, you either know that your hard work was worth it or you feel like the fruits of your labor weren't as sweet as you'd hoped, indicating a need to shift your focus to something different.
If you feel like you have put a lot of work into something and are still waiting to reap the rewards, the Three of Wands Tarot card encourages you to have patience for success is just around the corner!