Veronica Noir, The Daily Tarot Girl's evil counterpart, is here to kick some sense into you with her uncompassionate style of Tarot reading. She usually writes these half-drunk, so take her advice with a grain of salt…or a tablespoon!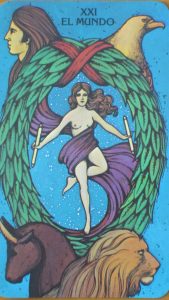 You are a multifaceted creature – never forget it! That is what The World is sayin' to me today.
There are many different aspects to your personality and who you are, so don't let yourself get pigeonholed into any silly "roles" or "personas" – the world is wide open!
Lets take a gander at this card, shall we? The naked lady in the center is dancing inside an ovally, egg shaped space – and if that's not blatant vagina symbolism, well then I don't know what is! And she grasps a phallic object in each hand (lucky bitch).
There is something wonderfully hermaphroditic about The World and its message is that you must be both receptive and active in order to truly be Queen (or King) of your surroundings.
Make a to-do list AND meditate. Let go of trying to control everything AND make a plan of action. Say YES to things that make you feel open and free (like a trip to Vegas!) and NO to things that make you want to crawl back in bed (like a friend's boring baby-shower).
You get the idea! Open yourself to the world by opening up to all aspects of yourself without judgement.
Because I am nosy, I want to know…how will you be expressing your "masculine" and "feminine" sides this weekend? Tell me in the comments below!