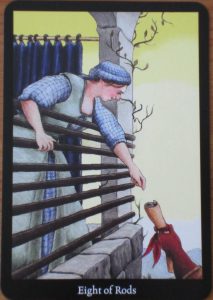 Things are speeding up! Hold on to your hat because life is unfolding before your very eyes…at the speed of lightening!
The Eight of Wands Tarot card signifies that important letters/emails are being written and sent. Should you censor yourself? There's no time to think!
You may get news of something good today, or just simply feel that things are beginning to really happen for you.
You have an increased ability to communicate to others in a direct, non-apologetic manner. No beating around the bush for you today!